Who doesn't love a great package deal? We have a wide variety of multi-item sets to fit anyone's needs. Whether you want to try out a few different flavors of blunt wraps, need a travel smoking kit, or a decked-out bong setup, each of these sets and packs are a true bang for your buck.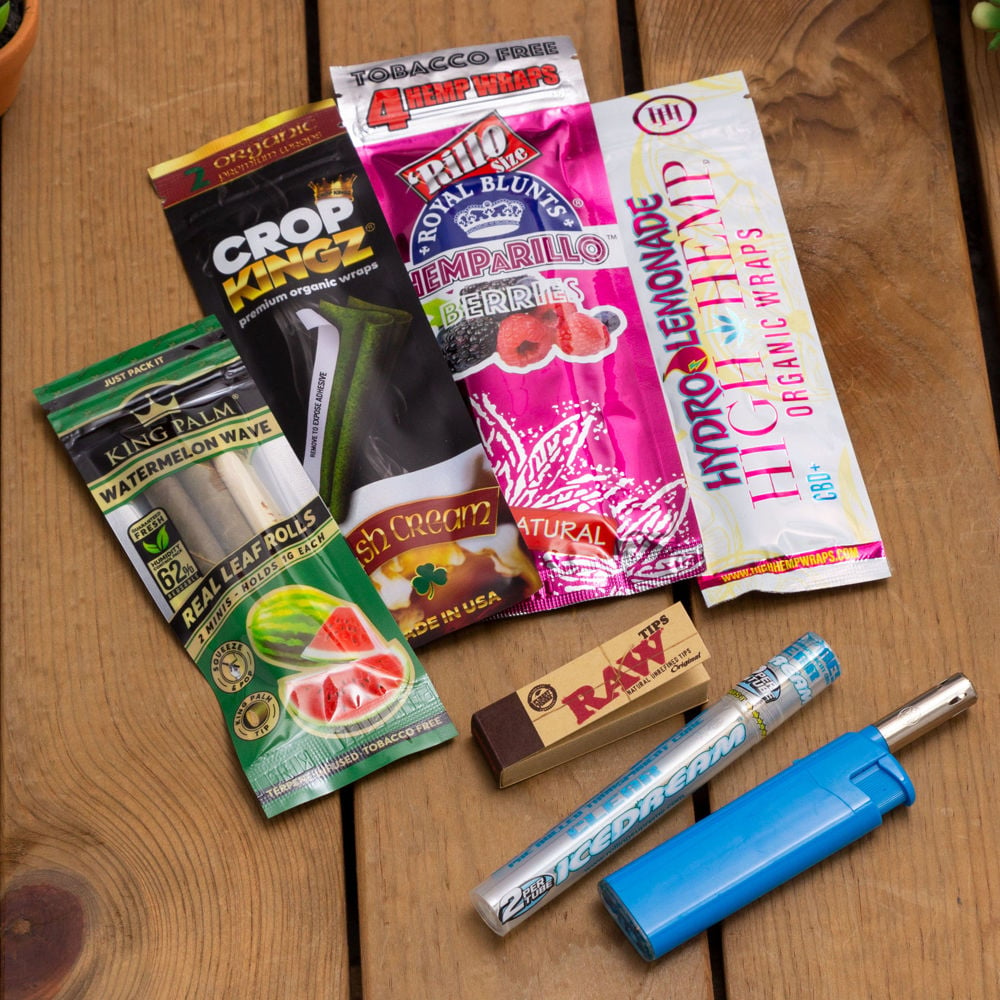 If you're a lover of blunts, here's the variety pack for you! You don't need to decide between tons of options here, because this pack includes four styles of blunt wraps, clear pre-rolled cones, joint tips, and a lighter. The three sets of wraps are hemp-based, and the pre-rolled cones are made from pure hemp leaf and natural cellulose, providing a variety of textures for your rolls. It's a great sampler pack to figure out what your favorites are, and the mystery of the randomized flavors is a fun addition.
The Smoking Outlet Mystery Box is the perfect purchase for anyone who wants to switch it up, or just loves a good surprise. There are three Mystery Box Tiers – the Starter Box at $25, the Lifted Box at $35, and the Deluxe Box at $65. Each box contains a varying amount of dry herb smoking gear, and are always worth more than they cost you. Any tier of Mystery Box provides a fantastic value, and of course a fun new selection of gear for the adventurous stoner's collection.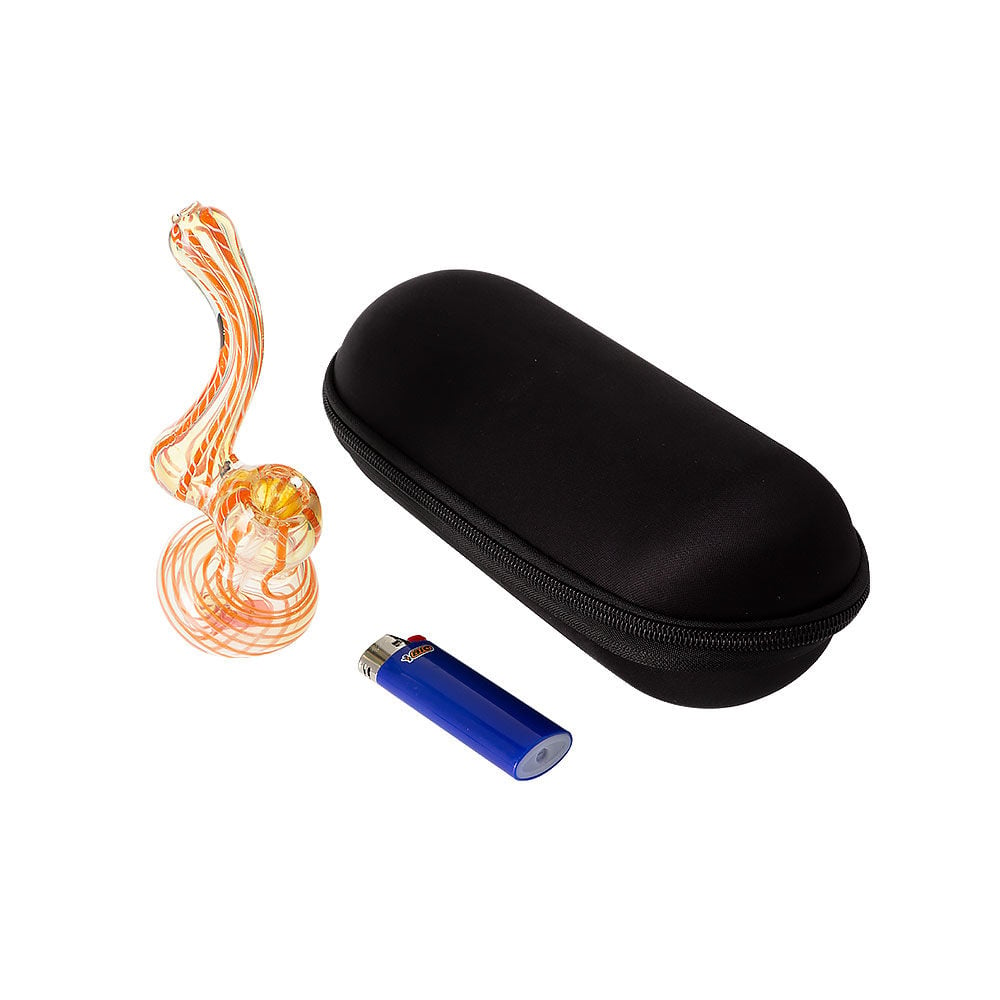 This bubbler kit is an amazing option for portable smoking, without sacrificing the water filtration we love from bongs and water pipes. It features a standing bubbler pipe, BIC lighter, and protective carrying case. The handheld bubbler has an attractive design, as well as a fixed stem perc for smooth hits. Light up with the lighter, and protect your goodies with the hard-shelled, foam-lined, zippered carrying case.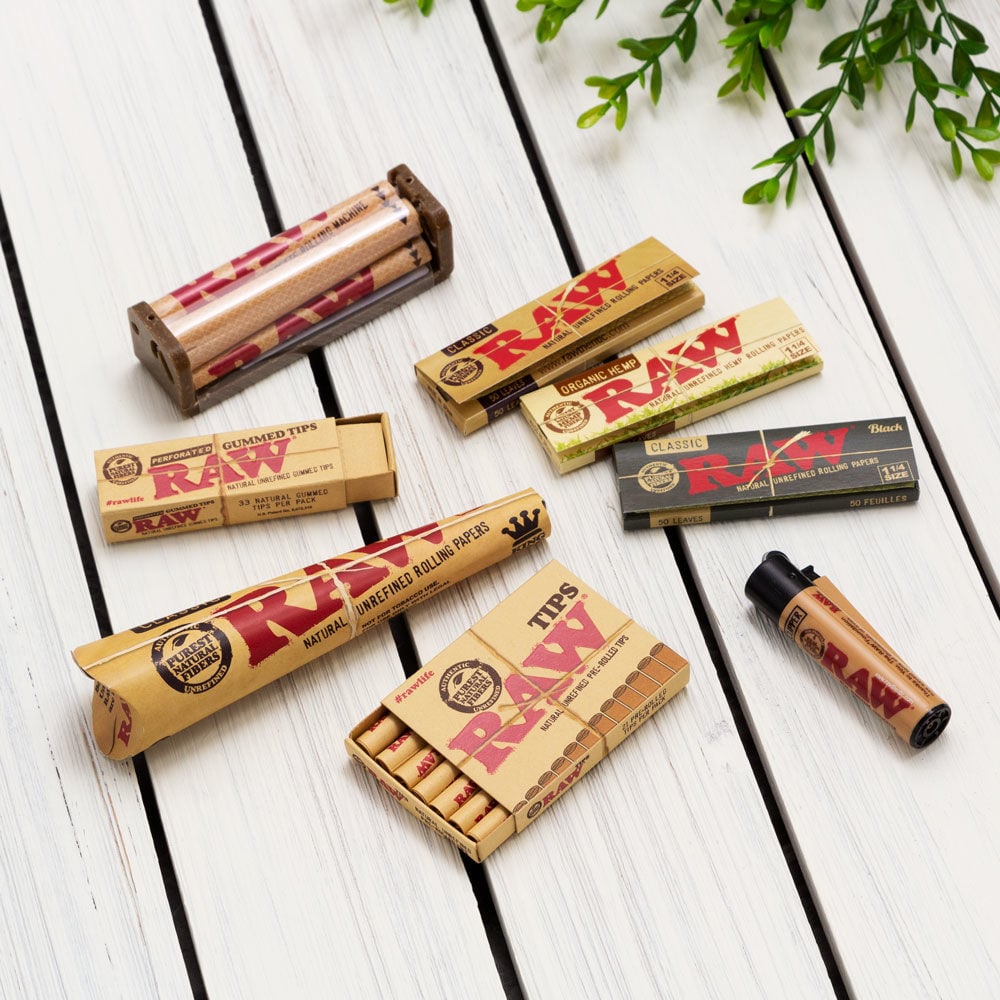 RAW has a cult following of dedicated smokers, and for good reason. Their products are unrefined, eco-friendly, and chemical-free, while providing a premium smoking experience with all of their offerings. This variety pack includes pre-rolled cones, three types of rolling papers, two types of filter tips, a bamboo rolling mat, and a RAW-branded Clipper lighter. Grab this cheap stash and get stocked up on your RAW faves.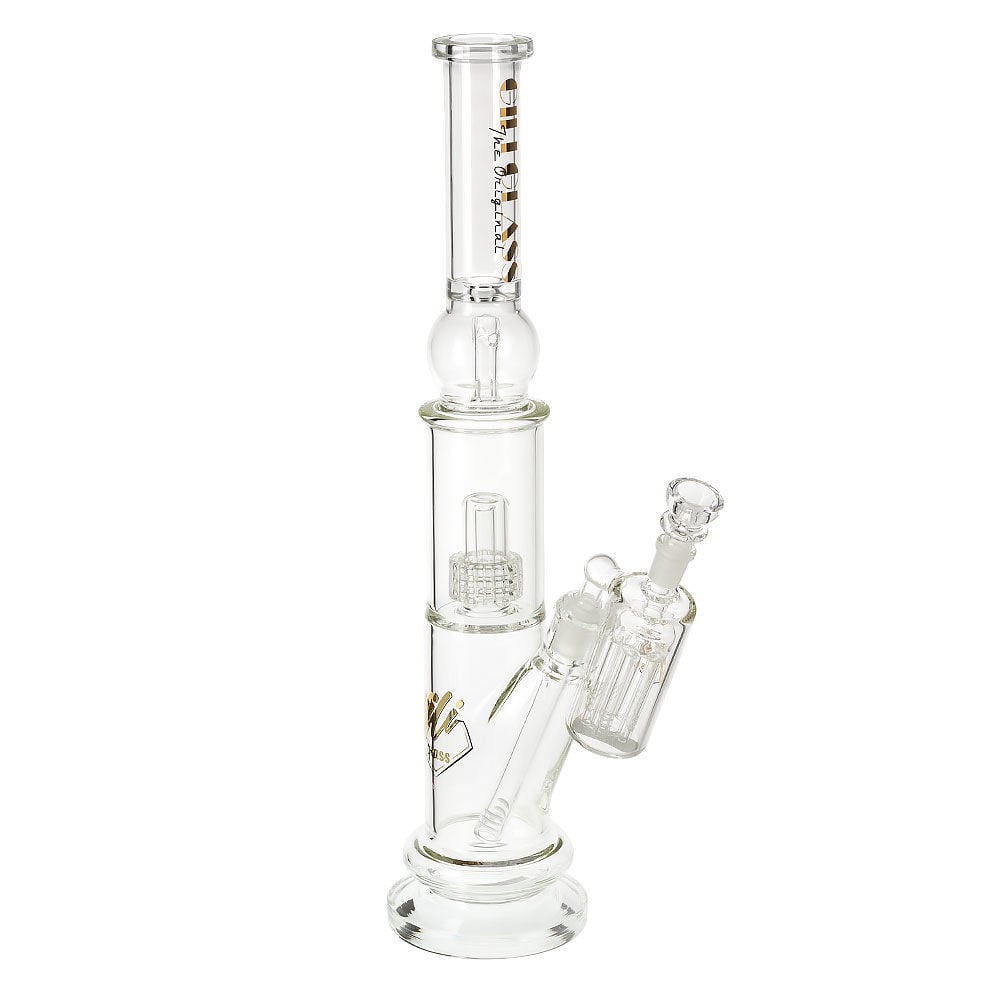 This gorgeous set features a tall, double-chambered bong, paired with an ash catcher attachment. The bong has a diffused downstem in the bottom chamber, and an intricate matrix percolator in the top chamber. With the addition of the tree percolator in the ash catcher, this set has an impressive level of smoke diffusion. Three perc types work together seamlessly, dropping the temperature and purifying smoke of impurities each step of the way. The borosilicate construction of each component is strong and sturdy, ensuring a feeling of quality that we all look for in glass smoke ware.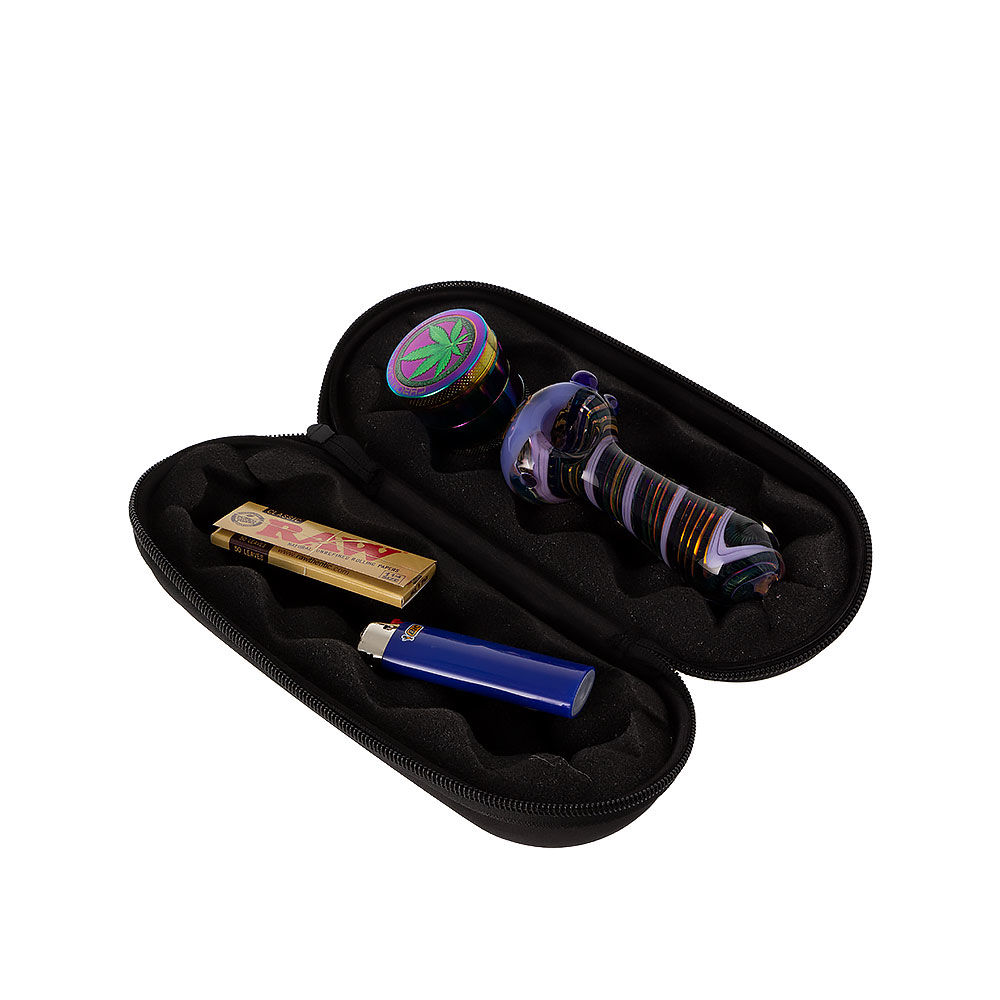 The Smoking Travel Kit is amazingly portable, practical, and feature three cohesive sets – a red set, a green set, and a purple set. The red and purple sets feature an extra-thick glass spoon pipe, while the green set has a sparkly glycerin-filled spoon pipe. Each kit comes with a matching grinder, and a BIC lighter to spark up. The zippered case holds each item for secure travel, made super protective by the hard shell and soft foam interior. Throw a little baggie of herb in there, and you're all set for sparking up wherever you go.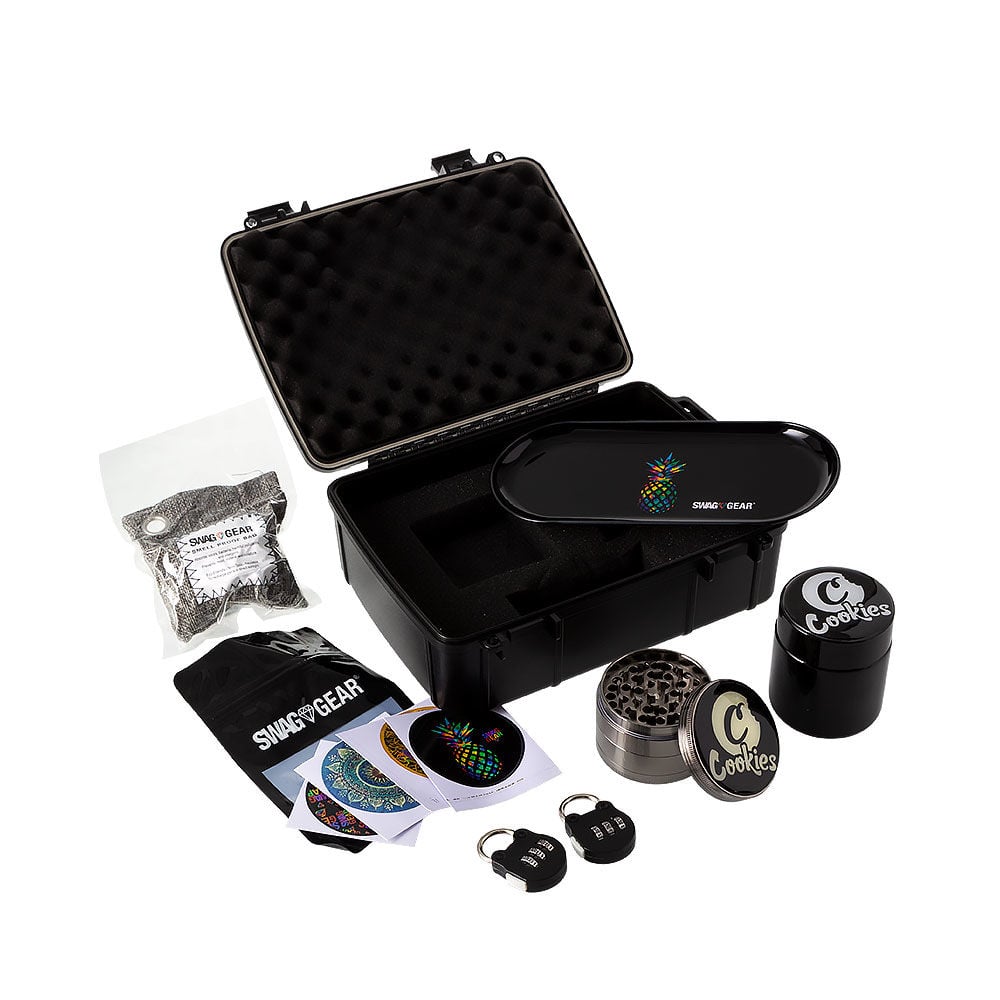 This Stash Box has a unique blend of items, all protected safely by a hard-shelled, foam-lined case. This set includes two combination locks to keep your stash safe from whoever you don't want getting their hands on your goodies. It features a thick UV-glass stash jar that protects your herb from the sun which can degrade the quality of your bud, and a sturdy 3-chambered metal grinder. The metal pineapple rolling tray is narrow and portable, and the smell-absorbing baggie is a nice added touch that reduces odors. 
 SHOP STASH BOXES
by Vanessa Matthews