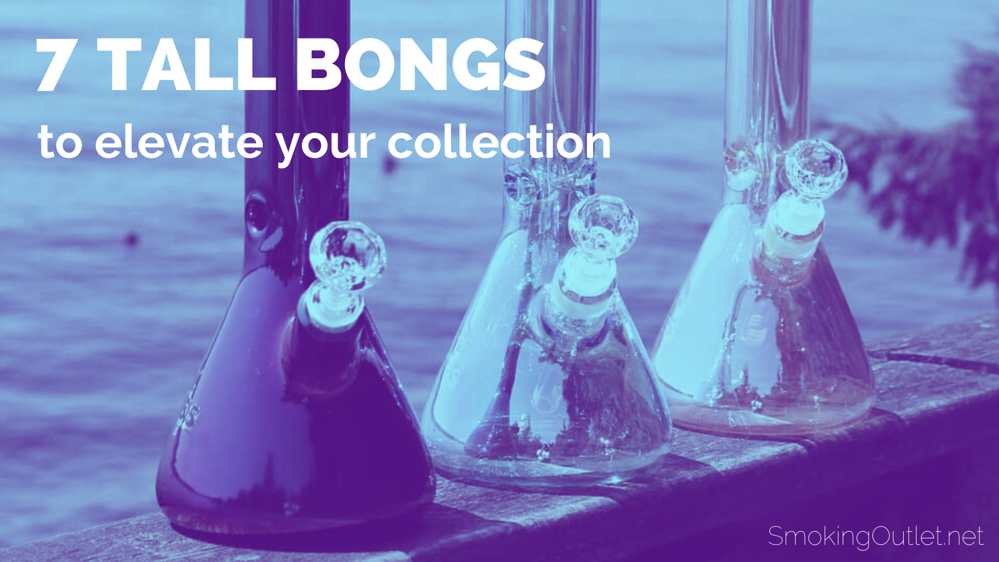 What better way to upgrade your collection of smoking gear than with a gorgeous tall bong? Whether you need a large piece for your weekly group sesh, or you simply love dense hits and big clouds, we've got the piece for you. In this article, we'll highlight seven of our favorite tall bongs we have to offer at Smoking Outlet.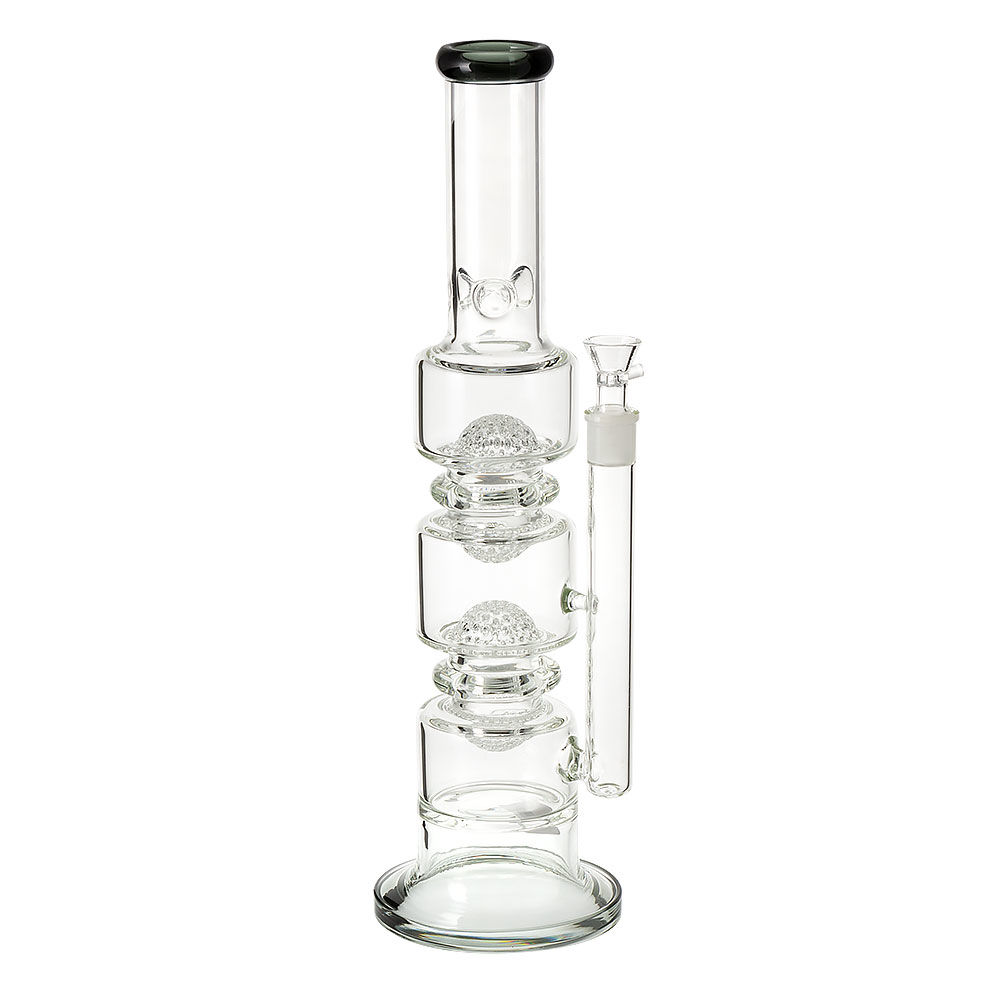 The XL Disco Percolator Bong has size and durability in spades, featuring sturdy 6mm-thick borosilicate glass and a sizeable 18-inch height. This piece has a distinctive look to it, which is mainly attributed to the split double disco ball percolators. This unique percolator design features two half-dome shapes with tons of tiny holes, where smoke is pushed through water to filter out excess impurities and heat in the bottom chamber. There is just under 5 inches of space in the neck to throw in ice for cooler hits.
This piece has a truly elegant feel to it, thanks to the minimalist design spruced up with elevated accents. Two golden Gili Glass logos look great in contrast with the fully-clear glass, andunique percolator features add an attractive touch. There's a downstem in the bottom chamber with diffusion holes, and the star of the show, the cycloce perc in the top chamber where smoke gets another whirl of cooling diffusion. This piece is tall, yet its narrow design makes it reasonably-sized for most smokers.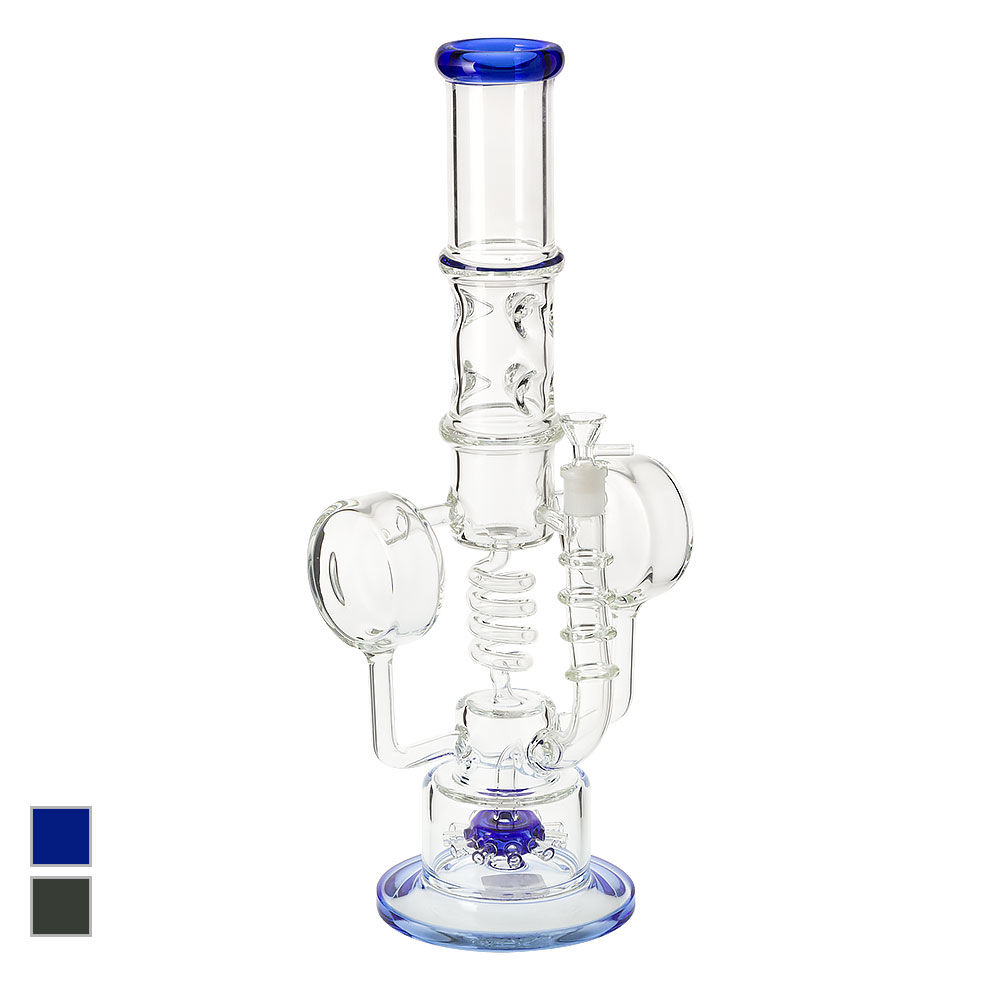 The Odyssey is an intricate piece that has so much more than just size! Wonderful durability, clean hits, and an intricate design all combine to create this showstopper of a bong. A sprinkler percolator is housed in a compact chamber at the bottom, sitting below the coil tube and dry disc recyclers one other side. Not only does it look awesome watching the smoke's journey up, but these features offer additional cooling to take the edge off your hits. Pop some ice into the pinch in the neck, and you're in for a smokey-smooth treat.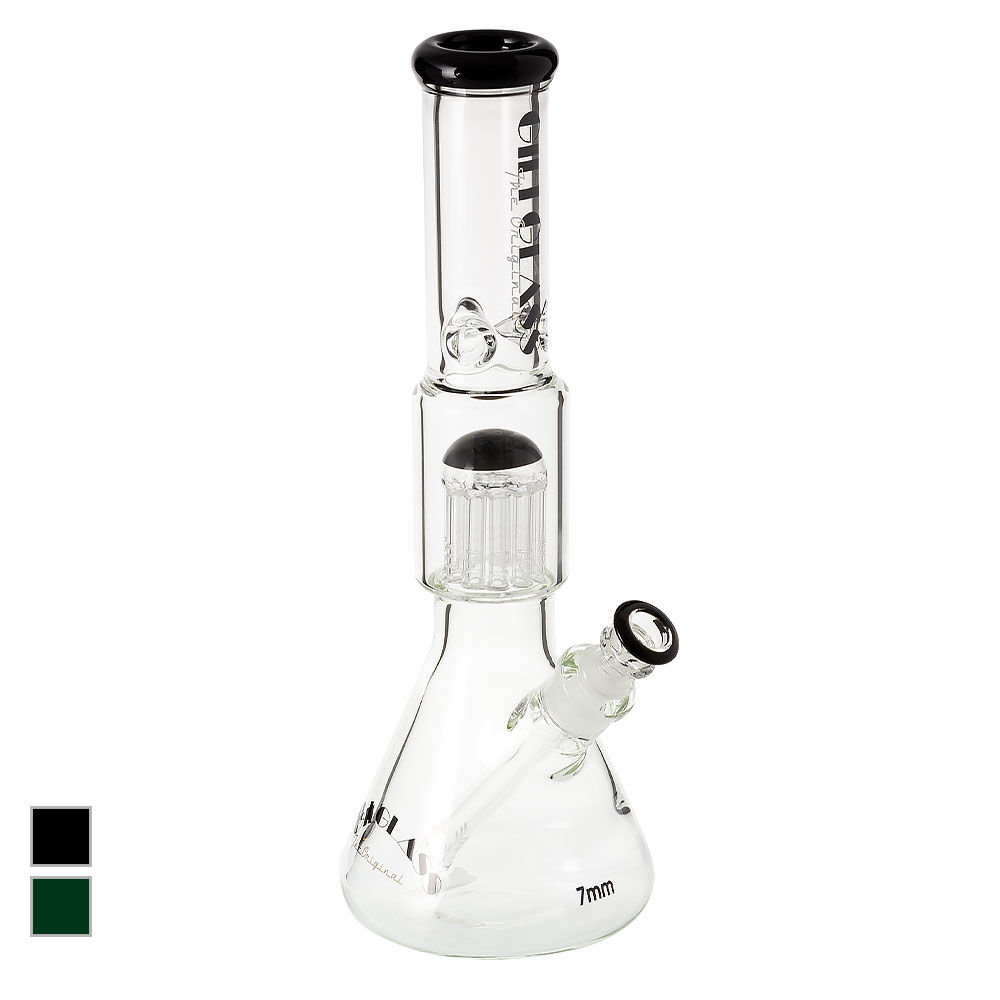 The Hefty Hitter Bong is a beautiful example of doing beaker bongs right! It features all the classic attributes of basic beakers, with the added benefits of thick glass and an additional percolator. Smoke begins in the large bottom chamber where it gets a purifying hit of diffusion from the stem percolator, before filtration is completed with the tree percolator above. If you need a tall beaker bong that has minimalist design and fantastic durability, this is the piece for you.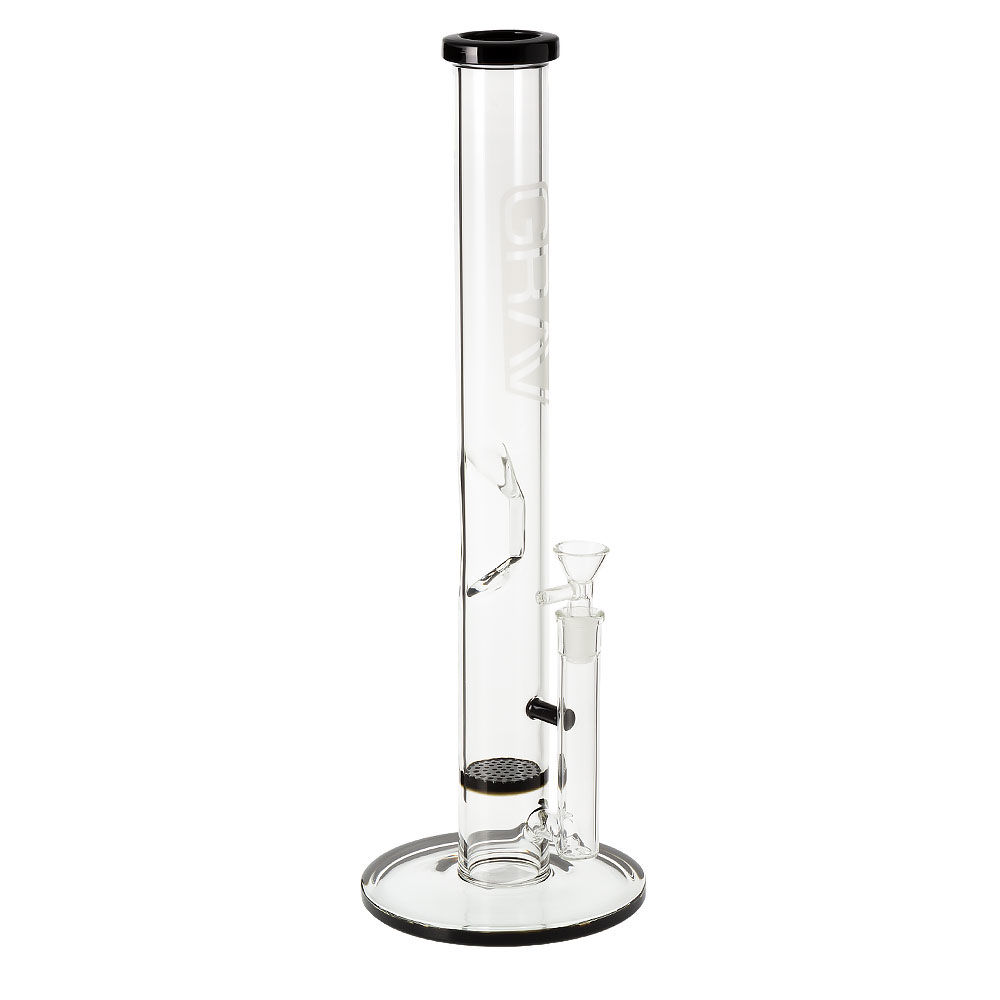 This bong from GRAV Labs has most of the features of an average straight tube bong, with subtle features that set it apart. It features a narrow body with an extra-wide, 5.4-inch base that offers ultimate support to this piece. Great percolator comes from a honeycomb disc percolator near the base, which is equipped with tons of tiny diffusion holes for maximum filtration and cooling. The ice pinch has a unique design not seen on made bongs, as it's somewhat of a large, indented notch in the neck that catches ice cubes for an extra cooling kick to your hits.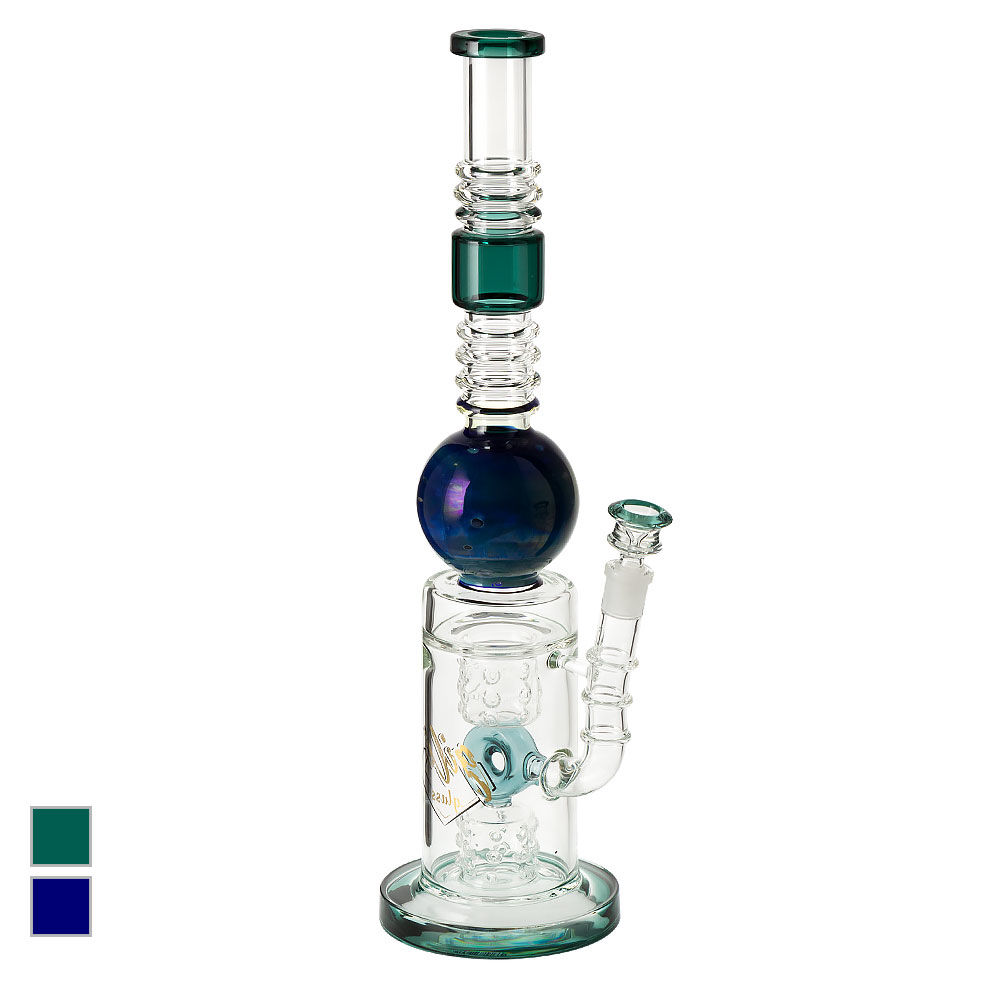 Terraform Gili Glass Bong. Looking for a piece with a bit of a natural vibe? This tall water pipe from Gili Glass offers great durability, amazing cooling elements, and an attractive design. Supported by a solid base, the chamber holds a small donut tube connected to the joint, sandwiched between two small Swiss percolators. SMoke travels through the donut, and down through the bottom Swiss perc. The smoke is then pulled into the holes of the top Swiss perc, before making its way to up the outpiece. The artistic orb in the center somewhat resembles a planet, which is nicely complimented by teal or royal-blue accents.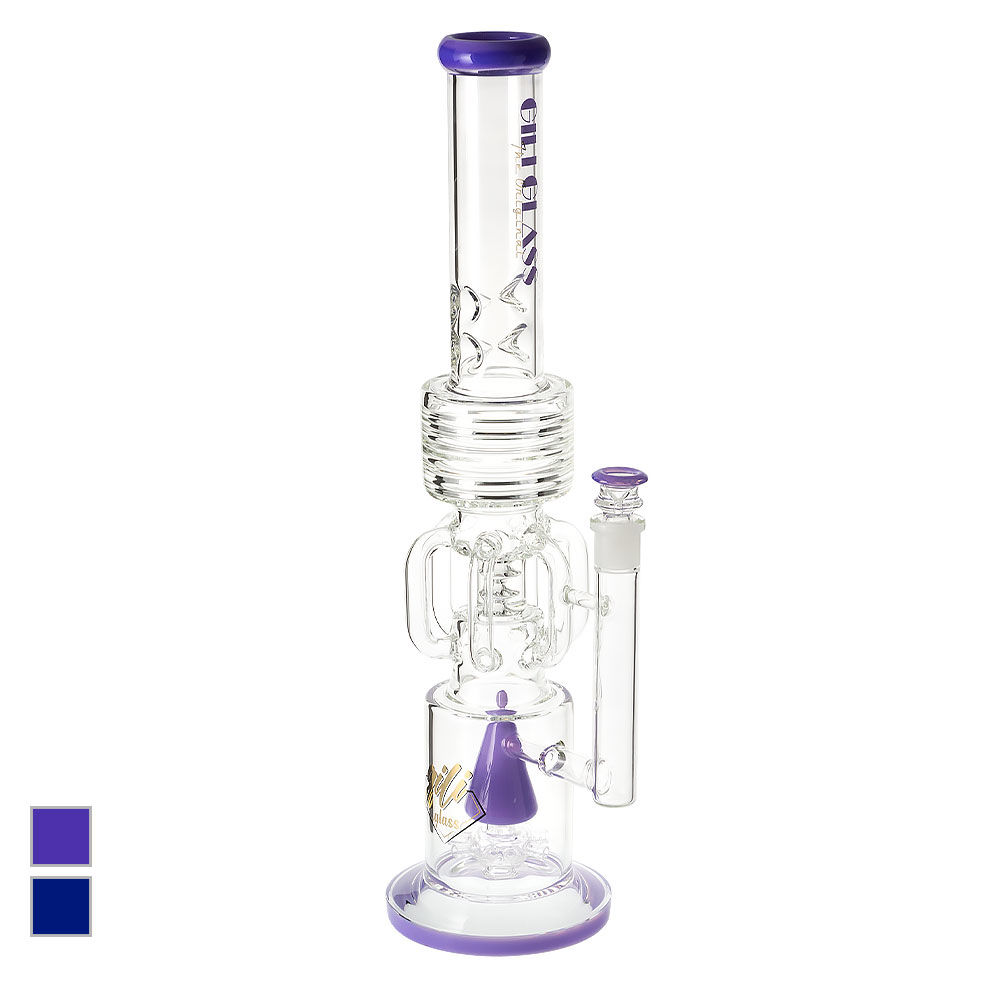 The awe-inspiring Tower of Power Bong features a 9-armed sprinkler percolator, as well as 6 dry recycler tubes. When you take a hit, smoke starts its filtration journey flowing through the cone-shaped sprinkler perc in the chamber, and then up through the 6 curved recycler arms. Not only does this put on show, but the extra pathways ensure smoke cools down even more before it reaches your lungs. This extra-large bong is impressively durable, thanks to thick borosilicate glass and a wide, supportive base. The borosilicate glass is clear with either blue or purple accents along the base, percolator, mouthpiece, and matching bowl piece.
 SHOP TALL BONGS
by Vanessa Matthews