By Vanessa Matthews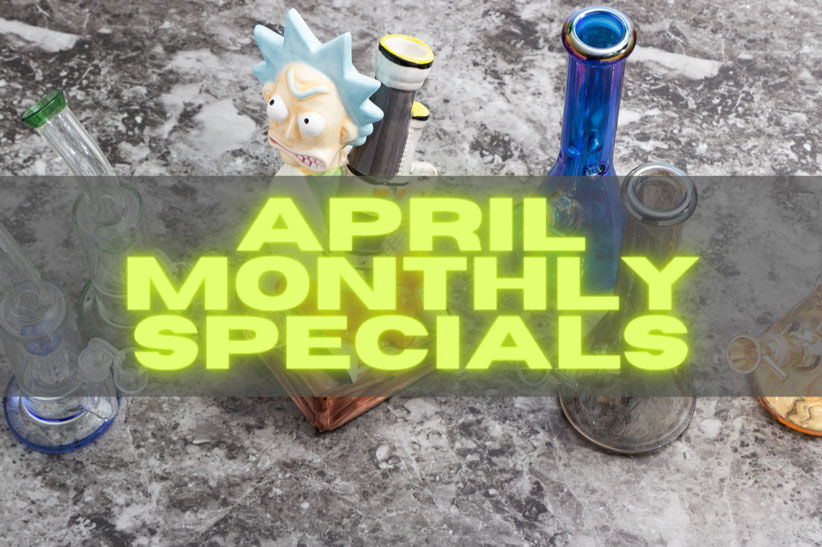 It's always an exciting time at Smoking Outlet when we release our set of specials for the month! Our Monthly Specials are a small collection of drastically marked-down bongs and dab rigs. No matter your budget, you should be able to land a great piece, which is exactly what our special deals are here for! But… which one's right for you? Let's explore the unique features of each of these awesome cheap water pipes! 
One of our best sellers is The Cannasseur Dab Rig, an all-around great rig for daily dabs. There's good reason why this piece is so popular! Not only is it impressively affordable, it also provides a fantastic amount of conditioning and cooling for dabs. This is thanks to the tree perc, which features several slitted "arms" for smoke to be diffused through water. While dabbing is one of the most popular ways to consume cannabis, it's infamous for scorching the throat, making effective filtration all the more important. This piece does the job with ease! If you need a functional, no-fuss dab rig that you can always rely on, the Cannasseur is calling your name.
A tried and true smoker staple: The beaker bong! This one's got it going on, chock-full of features that will truly upgrade your smoking experience! Firstly, the 5mm-thick borosilicate glass makes this piece a standout, providing amazing durability which allows it to withstand daily sessions. Not only that, but they're downright gorgeous! It's available in Royal Blue, Gray, and Champagne, all with a captivating glossy sheen and matching bowl piece. The diffused downstem brings in solid smoke filtration, while the ice pinch serves as an extra cooling step. Overall, this bong is sleek, functional, and durable, making it a fantastic choice for your next water pipe!
Calling all stoner Rick & Morty fans! This unique take on a ceramic bong leaves behind everything we know about basic water pipe design. The entirety of the body is made up of Rick sitting on a wooden crate, bearing a massive rocket launcher. Despite its unconventional design, the gun mouthpiece is positioned perfectly in relation to the bowl piece for easy hits. Watch out, because this is one big-hitter! The entire body of this piece is one big chamber, so lock in for a wild ride with Rick on your ganja journey. Don't worry about harshness, though, as the downstem puts in the work to cool down your hits as they diffuse through water. So, why not add in something a little different into your collection?