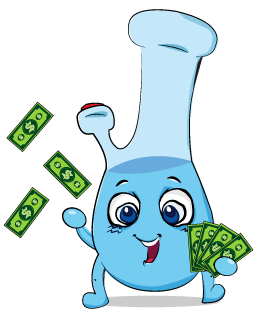 Every body loves Bongo, so of course everybody loves Bongo Bucks! Everybody loves them, and everybody wants to have them. They're our way of saying thank you to our loyal customers, providing a valuable rebate to every registered customer who shops at our store.
As a registered customer, for every $10 you spend, you'll earn 1 Bongo Buck, an effective 2% rebate on all purchases. You can stockpile as many Bongo Bucks as you wish, and redeem them at any time during the purchase of any item we sell.
Looking for ways to score extra bucks and get more free stuff?
1. Write a Review
Every verified review you submit for our products nets you 5 Bongo Bucks! We love your feedback, and we want you to love giving it!
2. Follow/Post/Share
Follow us on Instagram or Facebook and tag us and a friend in a photo or video of your purchase. Just like that, you've got yourself another 10 Bongo Bucks! If you already follow us, simply post and share (make sure you tag us and a friend)!
Please email us with your Order Number or the email you used to place the order, along with a link to the post, so we can add the Bucks to your account.
Also, keep an eye out on our social media for opportunities to win FREE Bongo Bucks.
How to spend your Bongo Bucks:
Every purchase you make at Smoking Outlet will earn you Bongo Bucks. The next time you go to check out, you'll see the following option under Payment Method: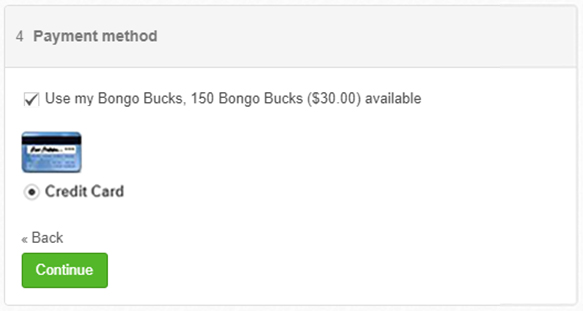 In this example, we have a customer who has saved up a whopping 150 Bongo Buckss! If you select "Use my Bongo Bucks," you'll apply all of your current balance of Bongo Bucks to your total purchase, up to the total cost of your cart. Don't worry! If you have more value in Bongo Bucks than your purchase costs, you'll keep the remaining bucks. When you proceed to confirm your order, you'll see the following information: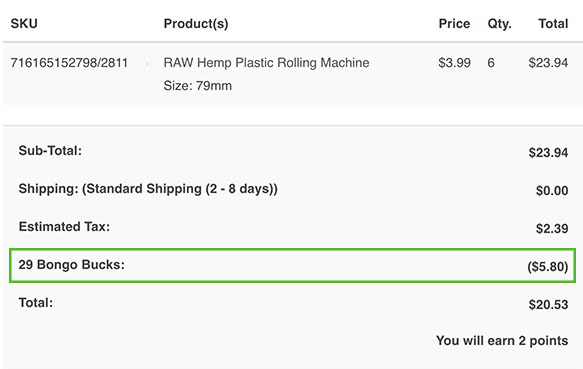 As shown here, the value of your Bongo Bucks is deducted from the total cost of your purchase, after any shipping and tax fees, saving you money on every purchase you make. Not only that, but even purchases made using Bongo Bucks will still earn you additional Bongo Bucks!
Redeemed Bongo Bucks cannot be refunded. If you choose to receive a refund on your purchase made with Bongo Bucks, you will be refunded the total dollar amount charged after the Bongo Bucks have been redeemed.