By Vanessa Matthews
2021 Edition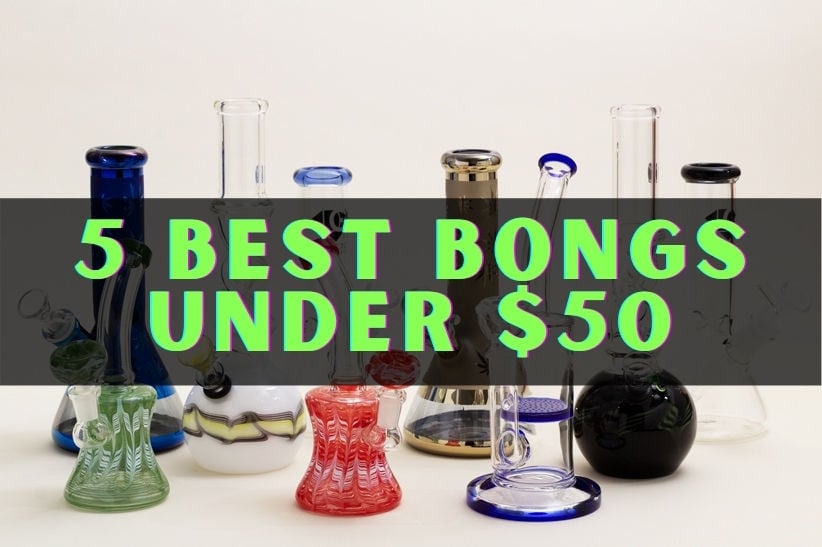 Have you come to Smoking Outlet looking for an affordable bong, but don't know where to start? In this blog, we'll go over 5 of our BEST bongs under $50. In terms of function, quality, and popularity among our customers, these are just a few of the best cheap bongs we have to offer at Smoking Outlet. If you want to see more awesome cheap bongs, browse through our entire catalog of bongs under $50!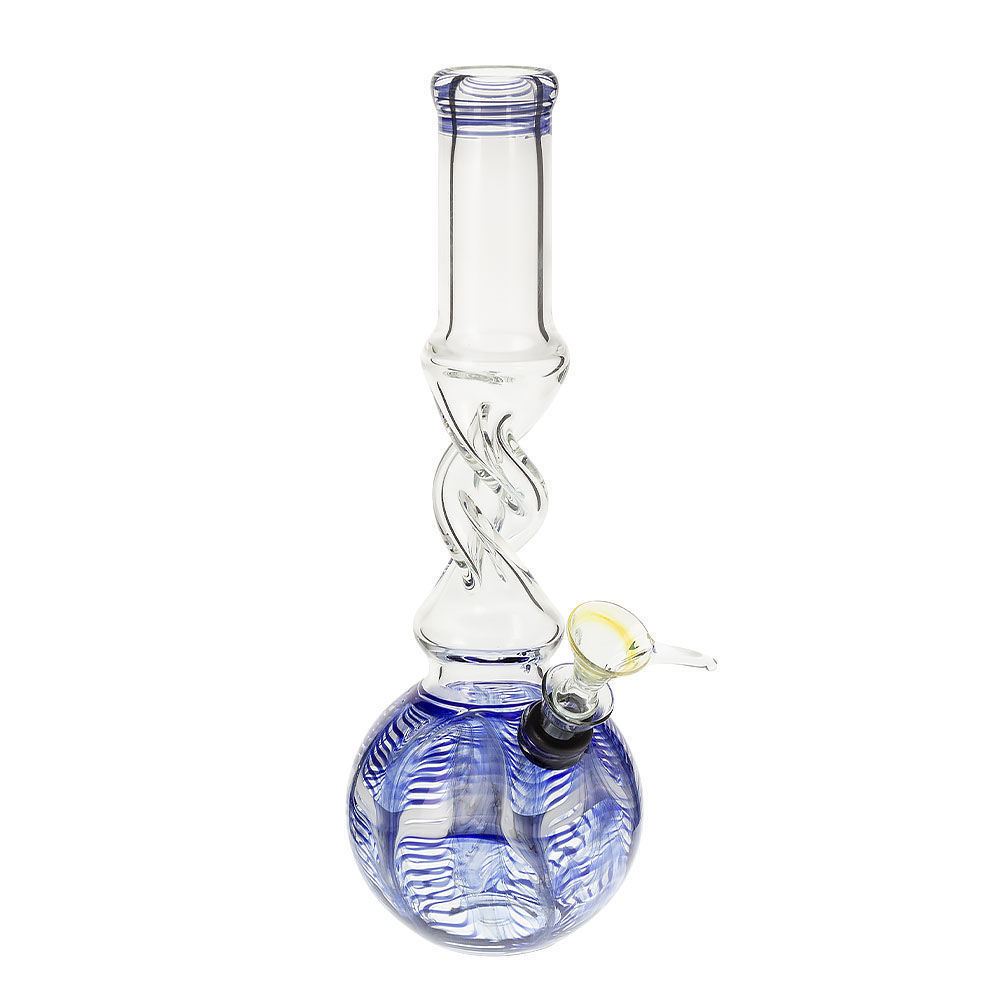 A long-time best seller is Helix the Second! Little brother to the former "Feathered Helix Bong," this is a standout piece in every way. Immediately catching the eye is the twisted neck, which gives it the signature "helix" name. When looking closely at the twisted glass, the quality craftsmanship is truly evident, making the amazing price a bit hard to believe! It's not just the neck that's awesome, though: The spherical chamber is decked out in a gorgeous feathered pattern, which adds another element of intrigue to the design. The plugged stem offers a nice amount of percolation to cool and smooth out your smoke, while the slider bowl has a glass hook to aid in grip to avoid pesky accidents during your sesh.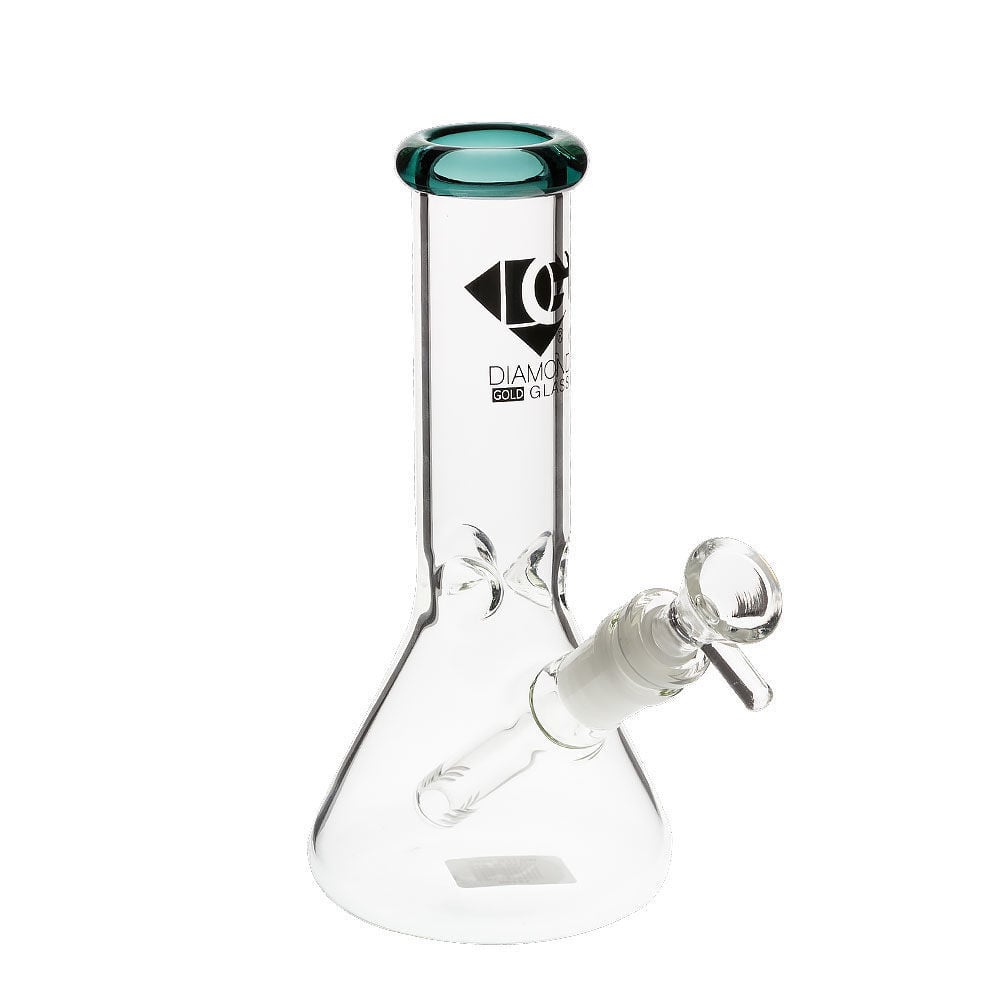 From day 1 at Smoking Outlet, it's been clear that our customers LOVE a good American bong. It's one area the brand excels in, as they create their beakers with quality craftsmanship and great performance in mind. The Petite Beaker Bong stands at a perfect 8"-tall, providing an ideal mixture of portability and capacity for hefty hits. The sturdy borosilicate glass body is accented by a color on the mouthpiece, and a black Diamond Glass logo on the neck. Wonderful smoke filtration comes from the diffused downstem, while the ice pinch allows you to pack the neck with ice for a refreshing, cool rip. For the low price of $39.99, this cheap bong give quites a bang for your buck!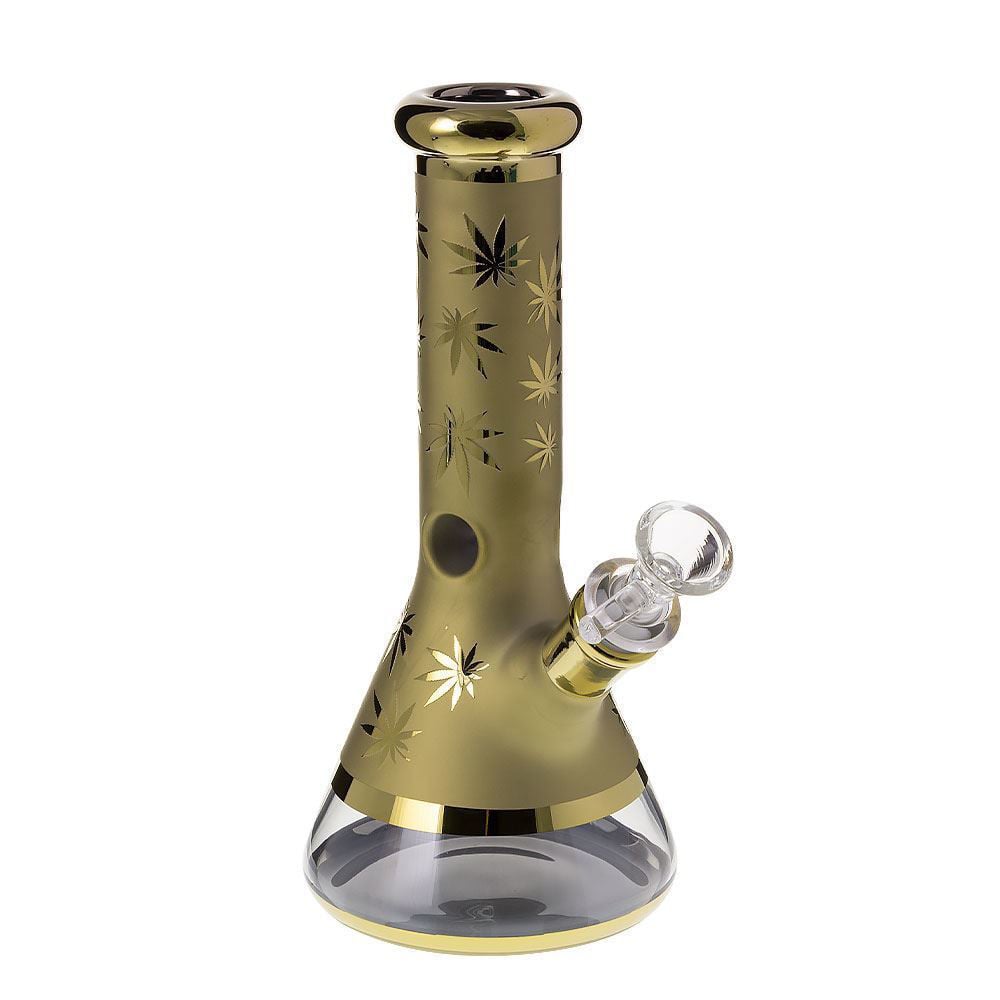 The Great Ganja Bong is a total crowd-favorite amongst our customers. At face-value, this piece is a total beauty. It's taken a spin on the classic beaker bong, giving it a wash of vibrant color and cannabis leaves. While most of it is solid-colored, the base is clear, giving you a good look at the water level, as well as the cleanliness of the water before your sesh. 4mm borosilicate glass provides the perfect amount of durability to this 8-inch bong, so there's no worries of flimsy glass that'll give up on you with this one! Beautiful filtration from the diffused downstem delivers cool and smooth rips, which is helped even further by the ice pinch in the neck.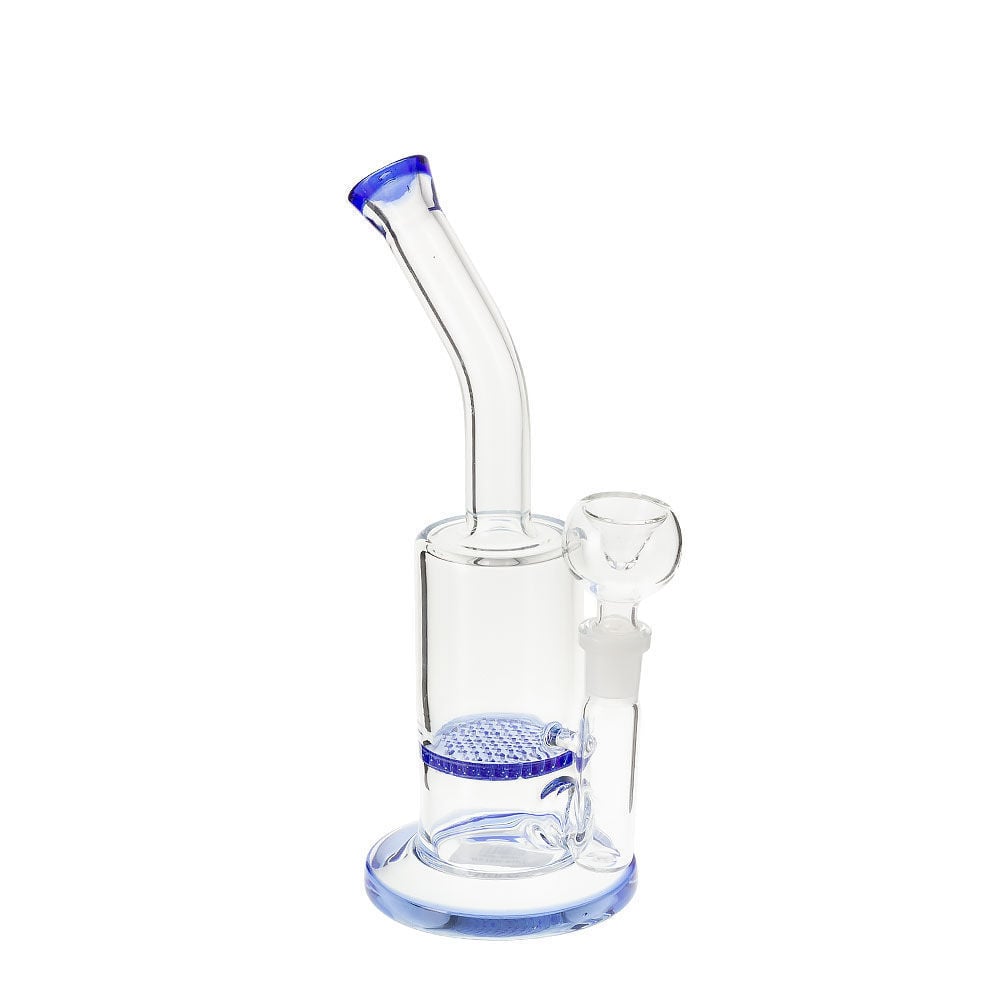 While some consumers love artistic pieces with all the bells and whistles, the Honeycomb Hero Bong serves those who value simplicity with good performance. The body of this water pipe consists of a narrow cylindrical chamber and bent mouthpiece, which is easy for anyone to use without dealing with extra bulk or a long neck you have to crane over for a hit! The true magic happens on the inside, where the honeycomb perc that gives this piece its name resides. The honeycomb is a magic little perc that is a flat disc with countless tiny holes, which generates the most bubbling possible, resulting in a hit that's so much smoother than you'd expect from a $30 bong.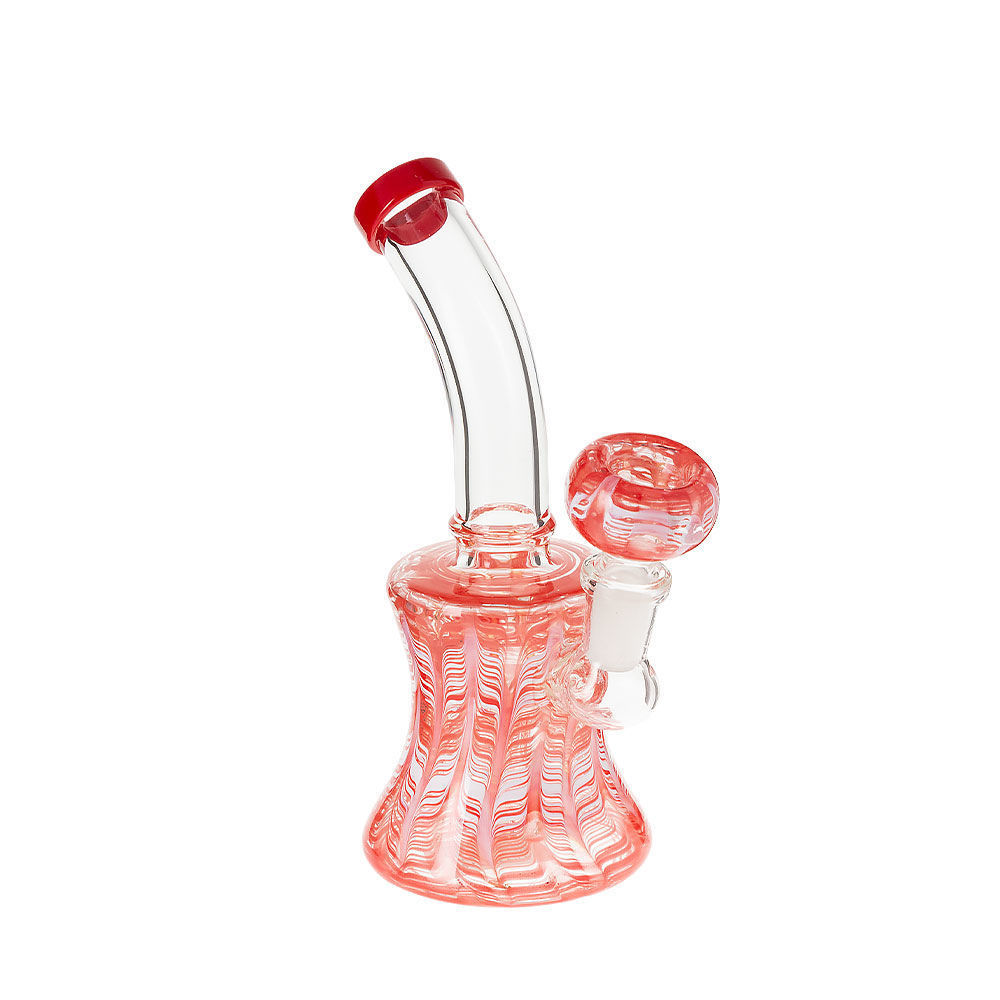 The Wind Down Water Pipe is a special one! We've been carrying this beautiful little piece for years, and over that time, it's become a well-loved option for those seeking a water pipe that is compact, yet doesn't skimp on quality or style. The artistic feathered pattern on the chamber and bowl piece is elegant and eye-catching, while the 4mm-thick borosilicate glass provides all the durability you'd need for your daily driver. Standing at 6.5"-tall and less than 3"-wide, this water pipe has a small footprint, making it ideal for both small spaces, as well as for people who prefer small/medium rips. You can't go wrong with this cheap bong!
ALL BONGS UNDER $50